American Pioneers Series
By Jeannette Holland Austin
The American Pioneer Series comprizes 26 volumes of encyclopedic references to ancestors in the United States. This private collection is a valuable reference to historians and genealogists alike, as most of the data is fresh, not printed elsewhere. Resources are given; includes photos and other valuable data. These volumes are now available to members of
Virginia Pioneers.net
Pound Lineage of Richmond, Virginia to Georgia
By Jeannette Holland Austin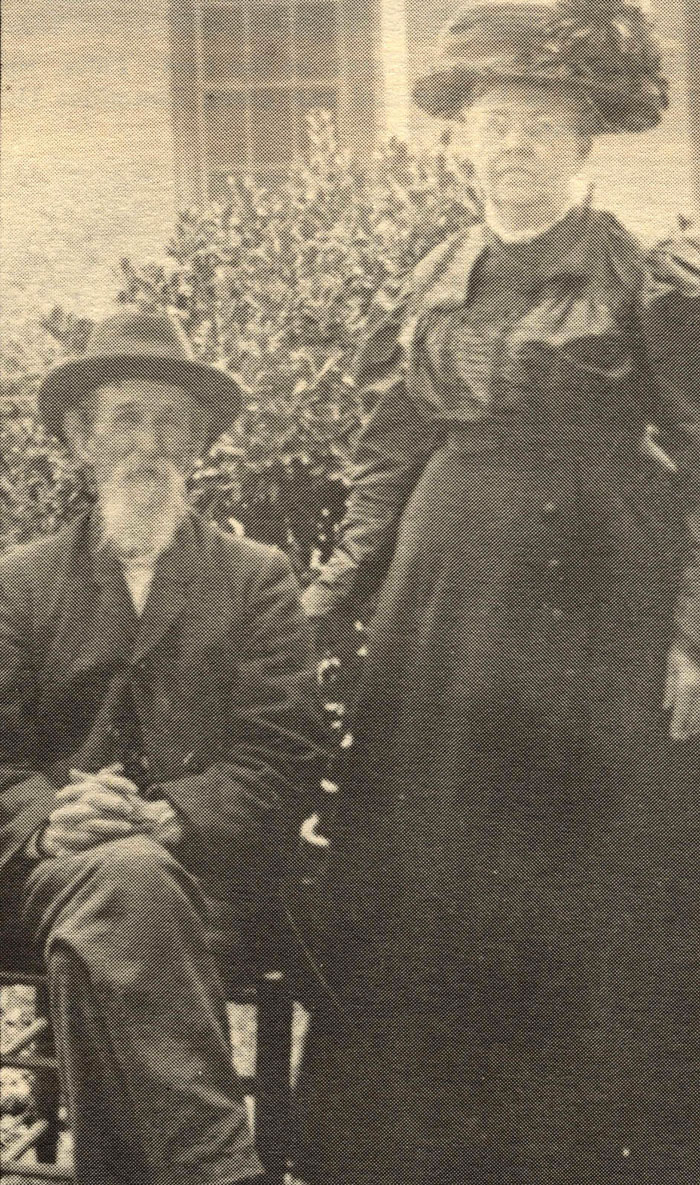 Sylvester Pound descends from a family which resided in both Richmond and Orange Counties, Virginia and migrated to Greene, Jackson and finally Gwinnett Counties, Georgia. He was born 1842 in Gwinnett County, Georgia and died 1926 in Stone Mountain. He was married on 8 June 1865 in DeKalb County, Georgia to Mary Elizabeth Ragsdale (pictured here). They settled in Chamblee, which was the old Cross Keys District of DeKalb County as evidenced by the 1880 Census. Sylvester's first home was blown down by a cyclone. The second home was built by neighbors and friends. They had seven or more children.
Sylvester was the son of Richard Davis Pounds who died 1888 in Gwinnett County, buried in the Pounds Cemetery in Tucker, Georgia.
Sylvester Pounds 1842-1926
Mary Elizabeth Ragsdale Pounds
This lineage has been traced back to ca 1713.
For more information on this family, see Genealogies at
Georgia Pioneers
New Additions to Georgia Pioneers
Folder Collection - Delegal (1668-1830) of Charleston, South Carolina; St. Simon's Island, Georgia; Dewberry of Monroe County 15 pp.; Dobbs of DeKalb and Newton Counties, 13 pp., photos
Georgia Wills and Estates - Troup County Wills 1818-1845 (digital images) - Names: Edward Castleberry, John C. Webb, Robert Frazier, Richard Lane, George Henry, Millington Scoggins, Elizabeth Montgomery, James S. Moon, Benjamin A. Fox, Mrs. Clara Haralson, Andrew Battle, Bennett M. Ware, Robert Freeman, William Stinson, Robert Curtis, John Greer, Mary Payne, Green Hill, ALexander Lane, David Haralson, Jane Davis, John Harper, Theophilus Flowers, Collin Rogers, Mrs. Martha Bull, Mauldon Amoss, Sarah Battle, Gabriel Moss, William Hammond, Pryor Edwards, William J. Osborn, Samuel P. Turner, Joseph M. Post, Andrew Hendon, William Hicks, Archey Whatley, Andrew Hale, Simeon R. Earley, Nicholas Lewis, Philip McKaimee, Allen Holloway, John Hill, W. Traylor, Jane Kendrick, Abner Turner, Isaac Culberson, Benjamin Ham, Bennett Posey, William Nelson, Benjamin H. Montgomery, William Moon, John Spence, Thomas W. Cox, Thomas Leveritt, Jacob Stillwell, Sherward McFarland, Henry Wideman, Nicholas Johnson, William Rigby, Henry Rogers, John Palmer, Benjamin Dunn, Robinson Hendon, Jonathan Haralson, William Ashford, Thomas Worthey, Henry Perkins, John W. Kendrick, James Rutledge, John W. David, Nancy Dingler, John Walston, Nancy Moore, Sarah Lesley, Mathew Lyle, Green R. Walker, Benjamin Rhodes, Moses Freeman, John Heard, George Wells, Peggy Bledsoe, Abel Gibson, Wilson Williams, Henry T. Chivers, Reubin R. Veal, Joseph Barron, Washington Trayler, Elizabeth Plattillo, James McCalley, Stephen Daniel, Jeremiah M. McLendon, James Cameron.
Bartow County Will of Joseph Grisham