Buckingham County Genealogy, Wills and Estates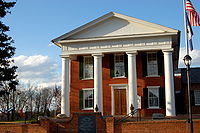 Buckingham County appears to have been named after the Duke of Buckingham in Buckinghamshire, England and was established on May 1, 1761 from the southeastern portion of Albemarle County. In 1778 a small triangular area bordering the James River was given to Cumberland County. In 1845, another part was taken from Buckingham to form the northern portion of Appomattox County. A final adjustment of the Appomattox-Buckingham county line was made in 1860 and Buckingham's borders then became fixed in their current form. Thomas Jefferson was the architect of the court house which was destroyed by fire in 1869. Most of the records were lost. The wills which are listed here survived and were digitized for the convenience of the genealogist.
What is a Tobacco House?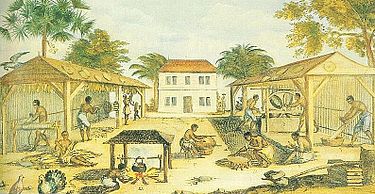 One of the earliest records in the region was that of William Maddox whose 1801 estate listed 100 acres of land adjoining Michael Maddox, William Watt and John Stewart. In 1870, Robert M. Bransford owned a tobacco house and land on Cut Bank Road. The house would have either been a shed or barn, where tobacco was stored. Throughout the 17th and 18th centuries, tobacco was the principal cash crop of Virginians and Carolinians. For that reason, more money was spnt in erecting and maintaining the out buildings, than the family home. Large tobacco warehouses filled the areas near the wharves of new, thriving towns such as Dumfries on the Potomac, Richmond and Manchester at the fall line on the James River, and Petersburg on the Appomattox. After the Revolutionary War and the migration of families into the westward regions, the crop continued to be widely grown.
Buckingham Genealogy Records available to Members of Virginia Pioneers
Miscellaneous
Harris, Francis, LWT, transcript | Jones, Edward (abstract from burned records)| Maddox, William, LWT, transcript | Moon, Guardians (abstract from burned records) | Watkins, Elizabeth (abstract of estate) | Watkins, Joel (abstract of estate)| Watkins, John (abstract of estate)| Watkins, Silas (abstract of estate)
Images of Wills 1869 to 1903
Abraham, Sallie | Agee, Aron | Agee, Mary | Agee, Susan | Agee, Thomas Mosley | Aldridge, Mark | Allen, John | Amos, Nat | Appling, Lucy | Austin, S. E. | Austin, Thomas | Ayres, R. H. | Ayres, Thomas E. | Baber, Edward | Baber, Virginia | Bagby, Fleming | Bagby, James | Bailey, V. R. | Ball, Virginia | Banton, Charles M. | Banton, Lewis | Bell, Ned | Boatwright, Nancy | Boatwright, William P. | Bocock, N. T. | Bondurant, Thomas M. | Booker, George | Booker, Sarah D. | Bolling, Lewes | Bradley, John | Bransford, Robert | Brown, John W. | Brown, Joseph | Brown, Matthew W. | Bryant, Henry | Cabell, Clifford | Cabell, Frederick | Cabell, William | Carroll, Maria | Chambers, George | Chambers, Mary M. | Chappell, William H. | Chenault, Martha | Christian, Charles L. | Claiborne, Field Archer | Clark, Sterling | Clay, Junius | Cottrell, Charles | Cox, Matthew | Crow, Susan W. | Crute, J. V. | Davidson, Baker W. | Davidson, Permelia | Davidson, Thomas J. | Davis, Lucine | Davis, Phineas A. | Davison, Martha | Demerant, Maria | Dixon, William | Dowdy, N. R. | Driscoll, Sarah Ann | Dunn, William A. | Edwards, John W. | Eldridge, Eliza | Ellis, Richard S. Jr. | Fariss, Thomas | Farley, Sarah | Ferguson, James | Fisher, John | Fitzgerald, James | Flood, James Monroe | Fones, Adocia | Fones, George W. | Fontaine, Margaret | Fontaine, Walter | Forbes, Thomas | Fuqua, Joseph | Gaines, William R. | Gannaway, Mary | Gardner, John B. | Garrett, James | Garrett, John | Garrett, Mildred | Garrott, Charles | Gentry, John | Gillispie, Robert | Gillispie, Sarah | Gilliam, Albert | Gilliam Isham | Gilliam, John C. | Gilliam, John R. | Gilliam, Richard A. | Gills, Archibald | Gills, William | Gipson, Miles | Gipson, T. L. | Goolsby, Susan | Gregory, John | Grigg, James H. | Guerrant, William | Guthrey, Martha | Hall, James | Hammontree, Alexander | Hammontree, Judith | Hanes, Elijah | Hanes, Mary | Harris, Dabney | Harris, James | Harris, Nancy | Harris, Sarah | Hill, Martha A. | Hill, Robert W. | Hill Robert W., his Bear Garden Farm (plat) | Holman, William | Horsley, Mary | Housewright, Elizabeth | Hubard, Bolling | Hubard, Robert | Huddlesstone, Samuel | Huddleston, William | Hudgins, R. B. | Hurt, Louisa | Irving, Delia | Johnson, Robert H. | Jones, A. B. | Jones, Charles | Jones, Elizabeth W. | Jones, Martha | Jones, Paulus | Jones, Peter R. | Jones, Powhatan | Jones, William B. | Kidd, Samuel | Kyle, George W. | Lawford, Thomas Wright | Leitch, Martha | Leitch, William | Lesueur, Daniel | Lesueur, Elizabeth | Leseueur, Martha | Lesueur, Peyton | Mason, Henry | Mason, Virginia | Mayo, Leana | Maxey, William | Clelland, Mary | Meador, James | Meredith, Pleasant | Miles, William | Miller, Catherine | Molley, Jane | Moon, John S. | Moore, Robert A. | Moore, Robert | Morley, Rebecca | Morgan, John | Morris, Nathaniel | Morris, Sophia | Moseley, Arthur | Moseley, Lavinia | Moseley, Marcia | Moseley, Peter | Moseley, Sally | Moseley, William | Moss, Francis Coleman | Moss, Stephen | Murphy, James | Neighbours, Abraham | Neister, Gillis | Newman, Pattie | Nicholas, Elizabeth | Nicholas, John S. | Nicholas, Nancy | Nicholas, William H. | Nicholas, William Thompson | Nixon, Wilmuth | Nuckols, Charles G. | Nuckols, R. C. | O'Briant, Polly | O'Bryant, Francis | Parrack, David | Parrack, Thomas | Patterson, John | Pearce, Martha | Penow, Charles | Perkins, K. M. | Perkins, Price | Perkins, Thomas H. | Perkins, William | Perrow, Charles Sr. | Phelps, Elizabeth | Pierce, Elizabeth | Poor, Abraham | Pritchard, Humphrey | Pryor, Elizabeth | Putney, Ellis | Putney, W. A. | Ragland, David | Reynolds, Frances | Roberts, John J. | Roberts, William H. | Robertson, Mary | Robertson, Rachel | Routon, Eliza | Sagory, Charles | Sanders, Goodrich | Saunders, C. S. | Saunders, Elizabeth | Scruggs, Thomas | Scruggs, William | Seay, Henry | Shaw, William R. | Shepherd, George | Sheppard, John | Smith, Eliza J. | Smith, Joshua | Snoddy, James | Snoddy, Mary | Spencer, John | Sprouse, Elizabeth | Staton, J. N. | Stearns, Franklin | Stinson, Joseph | Stout, Benjamin | Talley, Bella Nicholas | Talley, John Winne | Tappicott, John | Tappicott, Thomas | Taylor, Adocia | Taylor, James | Thomas, John | Thornhill, Sarah | Tindall, John W. | Trent, Alexander | Vin, Martha | Wilkinson, Francis | Wilkinson, Lucy | Williams, John | Woodall, Agnes | Woodall, Mildred | Woodfin, Mary | Wright, F. A. | Wright, James A.
An American Colonist Goes Loyalist and Testifies in England
Joseph Galloway, a native of Maryland, but a long-time resident of Pennsylvania before the Revolution, was an early and active sympathizer to the American cause until the Declaration of Independence was written. He then became a Loyalist. During a visit to England he was examined before an investigating committee of the House of Commons in June of 1779, and his testimony has been frequently published. When asked as to the composition of the Rebel army, his answer was "The names and places of their nativity being taken down I can answer the question with precision; there were scarcely one fourth natives of America; about one half Irish; the other fourth were English and Scotch." Thus, a fourth part was composed of some English, very few Scotch, and more Germans, or Dutch from Pennsylvania and the valley of Virginia, who formed the brigade under the command of General Muhlenberg, and the Eighth Virginia regiment. The testimony of Galloway referred to his experience while superintendent of the police in Philadelphia during the British occupancy. "Do you know anything of the army of the Rebels in general, how that is composed; of what country people?" His answer was, "I judge of that by the deserters that came over." It has been estimated that about one fourth of all the American officers were Irish by birth or descent and a large number of Irish were in the Continental Congress or prominent as leaders in every station of life. It is also believed that General George Washington was descended on both sides from Irish fore bearers.