Surry County Probate Records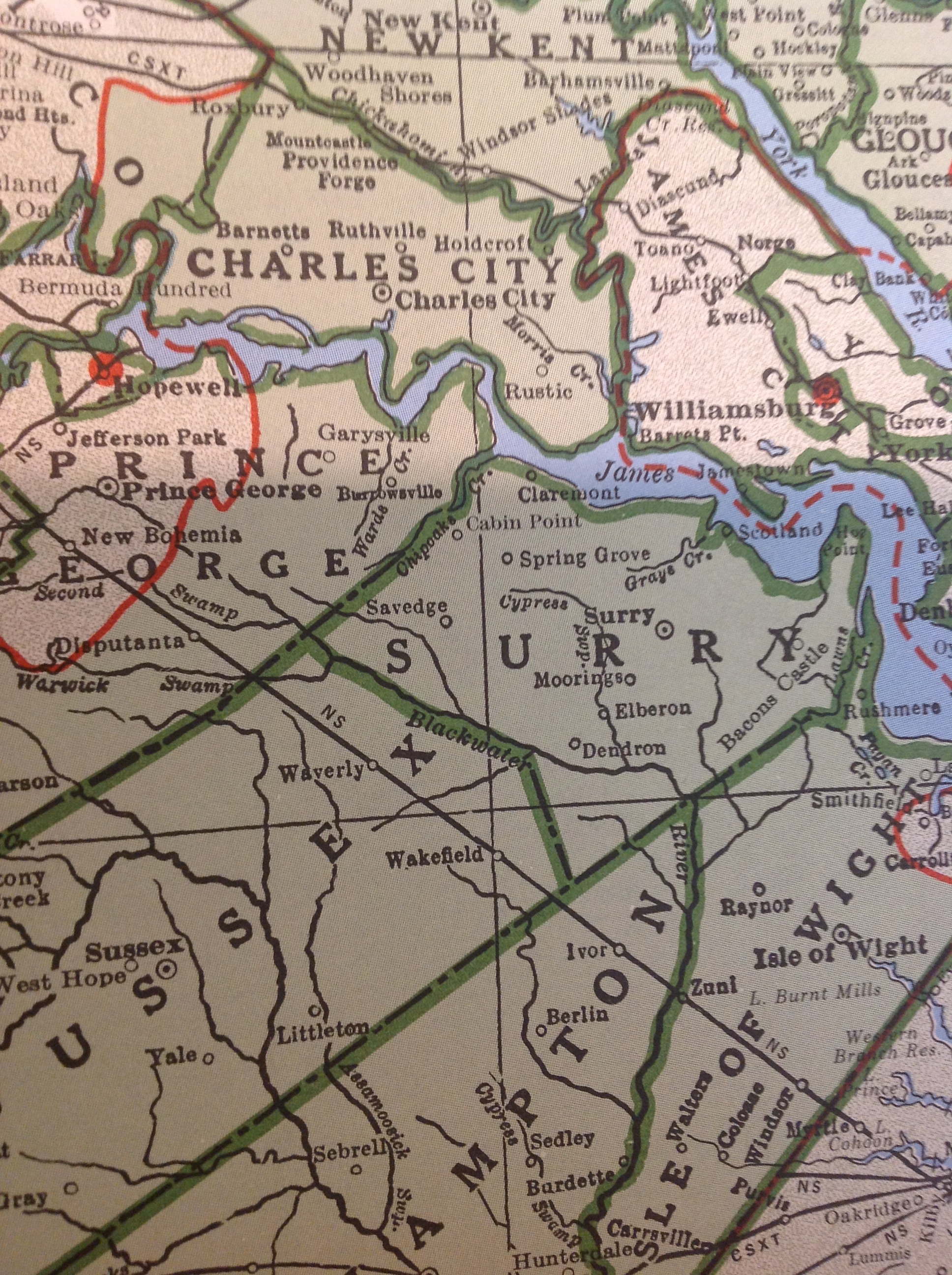 In 1652, Surry County was formed from a portion of James City County in the Royal Colony of Virginia south of the James River. In 1676, a local Jacobean brick house was occupied as a fort or castle during Bacon's famous Rebellion against the Royal Governor, Sir William Berkeley.

New! Just Added!
Surry County Guardian Accts
1672 to 1750
1744 to 1762
1762 to 1783
1783 to 1803
1804 to 1820
1821 to 1831
Unrecorded Wills
Miscellaneous Wills
Banks, John, LWT (extract of lost records)
Gording, John, LWT (extract of lost records)
Harrison, Benjamin, LWT (transcript)
Taylor, Thomas, LWT dated 1744
Warren, Willis, LWT (extract of lost records)
Watkins, Martha, LWT (extract of lost records)
Tithables
Note: All males 16 years and over had to declare themselves annually and the number of males which they brought into the colony (mostly white indentured, but some African-American).
1652-1672
1671-1684
1679
1680
1681
1682
1683
1684
1685
1686
1687
1688
1689
1690
1691
1694
1695
1696
1697
1699
1700
1701
1702
Military
Militia Fines 1800, 1801, 1802, 1821
Indexes to Wills and Deeds
Wills and Deeds 1652 to 1672
Wills and Deeds 1671 to 1684
Wills and Deeds 1684 to 1687
Wills and Deeds 1687 to 1694
Wills and Deeds 1694 to 1709
Wills and Deeds 1709 to 1715
Deeds 1741 to 1746
Deeds 1746 to 1749
Maps
Marriage Records
Marriages to 1699
Marriage Index 1768 to 1853
Marriage Register 1768 to 1853
Marriages 1772 to 1825
Miscellaneous
Traced genealogies and family histories of Surry County available to Members !
Images of Wills and Estates 1652-1672
Note: Incomplete due to damaged images
Blackbone, Joseph
Booz, J.
Broad, George
Foreman, Thomas
Hall, William
Jones, Ralph
Lurus, T.
Mason, James
Shepherd, Joseph
Washope, Joseph
Wynne, John
Images of Wills and Estates 1671-1684
Note: Incomplete due to damaged images
Aberson, William
Allen, Arthur
Anny, Charles
Baker, Lawrence
Barton, John
Bopham, Charles
Brewster, Charles
Bridgeman, Edward
Browne, Edward
Cartwright, Robert
Clay, Thomas
Corkins, William
Delks, Roger
Drew, Richard
Drew, Thomas
Edwardson, William
Emmerson, John
Flood, John
Gold, Edward
Goring, John
Good, Henry
Gray, Thomas
Grogan, John
Grove, John
Harte, Charles
Haskins, Nicholas
Hedy, John
Hickman, Elizabeth
Hill, Thomas
Hoge, Hoge
Holt, Randall
Horderet, Thomas W.
Hornsby, Francis
Hornsby, James
Howell, Edmond
Hunt, Jasper
Johns, Richard
Jones, Susannah
Kilpatrick, James
Kindred, John
King, Thomas
Kinnard, Augustine, Sr.
Knight, Nathaniel
Leeler, Robert
Long, Mary
Marriott, Thomas
Marriott, William
Moring, John
Parker, Judith
Price, John
Proctor, George
Rawlings, John
Richards, Lott
Rookings,, William
Sherwood, William
Smith, John
Spensor, Robert
Watkins, Henry
Weeks, Thomas
White, Joun
Williams, Robert
Images of Wills 1684-1687
Note: Incomplete due to damaged images
Avery, Richard
Barrow, Thomas
Clarke, John
Dough, Walter
Jordan, Thomas
Scarle, Richard
Spenser, Robert
Images of Wills and Estates 1687-1694
Note: Incomplete due to damaged images
Avery, George
Avery, Richard
Barnes, John
Barrow, Thomas
Briggs, Margery
Bynham, John
Clarke, Thomas
Creed, William
Dimford, John
Due, John
Eidway, Mary
Forbes, James
Forbush, James
Francis, Henry
Hamilton, I.
Hansford, P.
Haviland, Anthony
High, Thomas
Hyelocot, Thomas
Jordan, Thomas
Knisaph, John
Marke, Richard
Margory, William
Matson, Job
Middleton, George
Newsom, William
Nicholson, Francis
Phillips, John
Pottway, Edward
Roade, William
Rugsboo, William
Sherrard, Dennis
Smith, John
Sopurns, Nicholas
Swann, Samuel
Taylor, John
Taylor, Walter
Tibbott, Richard
Tooker, Henry
Upchurch, Thomas
Images of Wills and Estates 1694-1709
Note: Incomplete due to damaged images
Allen, John
Bagley, Hugh
Bagerhood, Thomas
Bennet, Jonas
Binns, Thomas
Botter, Roger
Bowman, Thomas
Briggs, George E.
Bullock, Richard
Carr, Thomas
Clary, Thomas
Collins, John
Cook, James
Covon, Joseph
Crows, Thomas
Ehndseuth, Matthew
Esoll,, Timothy
Forbush, Theophilus
Fort, John
Francis, Henry
Grantham, Edward
Gray, John
Gully, Luccey
Gulley, Robert
Hammock, John
Haney, J. W.
Hargrave, Richard
Harris, John
Harrison, Benjamin
Howard, John
Howson, George
Inman, Robert
Ironmonger, Mary
Johnson, Martin
Jolks, Richard
Jordan, Anna
Jordan, Arthus
Jordan orphans
Jordan, Richard
Jordan, Samuel
Killingsworth, William
Lather, John
Leward, William
Mariott, Mathew
Mason, Francis
Mason, James
Measle, Luke
Modes, William
Monroe, John
Nash, William
Newson, John
Newsom, William
Paleton, John
Peyton, John
Phillips, David
Phillips, John
Pickerill, William
Pidington, Thomas
Pottaway, William
Rawlins, Roger
Reynolds, Robert
Riddick, James
Robinson, James
Rogers, William
Roggers, John
Saffield, Nicholas
Savige, Robert
Shally, Phillip
Simons, Elizabeth
Simons, William
Swan, Matthew
Swett, Robert
Thompson, John
Watkins, John
Wood, Joseph
Wrath, William
Yost, Timothy
Images of Wills 1709 to 1715
Note: Incomplete due to damaged images
Adkins, Thomas
Allen, James
Baily, Robert
Barker or Burcher, John
Bookey, Edward
Edwards, John
Ellis, James
Figler, Christopher
Harris, Elizabeth
Harrison, Benjamin
Hunt, William
Mayberry, Elizabeth
Mayberry, Francis
Randall,, George
Rockins, William
Ruffin, Elizabeth
Rustwell, John
Witherington, Nicholas
Wyche, Henry
Images of Wills and Estates 1715 to 1730
Anderson, John
Andrews, Robert
Apple, John W.
Balse, Robert
Barlow, John
Barner, Francis
Bayley, Robert
Bennett, Richard
Blow, George
Braddu, Edward
Brantley, Hester
Browne, John
Callahan, Morris
Chambers, Olive
Chapman, Benjamin
Clark, John
Clarke, Henry
Clark, Robert Sr.
Clements, Francis
Clemons, John
Coker, John
Coker, Margaret
Collier, John
Collier, Joseph
Cotten, Mary
Davis, Arthur
Davis, Nicholas
Dobe, John
Edmunds, Howell
Edwards, Benjamin
Evans, John
Ezell, Michael
Farret, George
Faulson, Isaac
Faulson, Jacob
Ferraby, Benjamin
Flacke, Robert
Ford, John
Fox, George
Freeman, John
Glover, Richard
Green, Nathaniell
Grice, Robert
Hagood, George
Hall, Joseph
Harris, John
Harris, Joseph
Harris, Margaret
Hart, Richard
Hart, Robert
Hawthorn, John
Heath, Adam
Hicks, John
Hide, Richard
Hill, Benjamin
Holt, John
Howell, John
Hunnicutt, Margaret
Hutchins, John
Jarrad, Nicholas
Jarrett, Charles
Jarrett, Ferdinando
Jarrett, George
Jarrett, Henry
Johnson, Marlin
Jones, Arthur
Jordan, George
Kever, John
Kitchen, John
Lacey, Mary
Lather, John
Lewis, Morgan, Lewis
Lowerby, Francis
Lucas, Grace
Lukelasco, John
Lynes, Robert
Magarety, Patrick
Maybury, Francis
Merritt, Elizabeth
Mitchell, John
Moreland, Brockett
Moreland, Edward
Newell, Elizabeth
Newson, John
Nicholson, Ann
Nicholson, George
Nicholson, James
Obourn, John
Pack, John
Parham, Ephraim
Peake, John
Peters, Joannah
Phillips, Mary
Pingington, Edward
Pledge, Charles
Pocks, Edward
Price, Francis
Proctor, Joshua
Ray, Joseph
Regan, Francis
Reives, John
Savidge, Charles
Savidge, Levelis
Scarboro, Edward
Sessons, Nicholas
Seward, James
Simson, John
Sledge, Mary
Smith, John
Smith, Nicholas
Snelgrove, Henry
Sowerby, John
Spratley, John
Stanton, James
Tarret, Mary
Taylor, Etheldred
Taylor, Richard
Terrell, Charles
Tharp, John
Tharpe, Joseph
Thompson, Nicholas
Tooke, John
Walker, Humphrey
Watkins, John
Weak, Richard
Weaver, John
Weaver, Kenneth
White, John
White, Mary
Williams, Charles
Williams, Jones
Windom, Griffin
Wrenn, Richard
The Mule Chest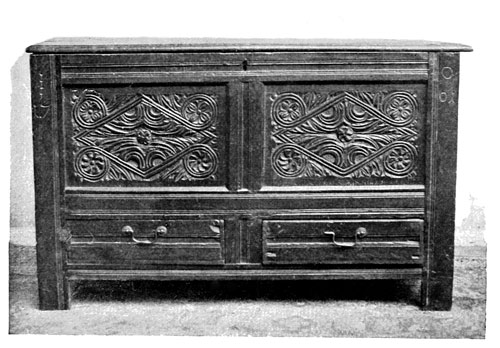 The Mule Chest is one of the earliest forms of the chest of drawers. It was made in the countryside as early as the Cromwellian era and for as long as a hundred years. In more fashionable circles it was soon developed into the well-known Jacobean chest of 55 drawers, the prototype of the form in use today. The chest pictured was dated about 1701 and did not develop into a new style for fifty years or more.
Oak Dresser
The oak dresser depicted here dates to early 18th century England. Its arched formation and serpentine outline on the sides reach more than six feet. The earliest settlers coming to Virginia with indentured servants also exported certain supplies and furniture necessary for colonial cottages. While they availed themselves of natural materials found in the countryside, such as tree lumber used to build homes and barns and the berries from myrtle bushes used to make wax candles, they soon discovered that the cost of importing nails, glass windows, and other implements was prohibitive. As barns and other buildings were dismantled, plank boards and nails were saved for future use.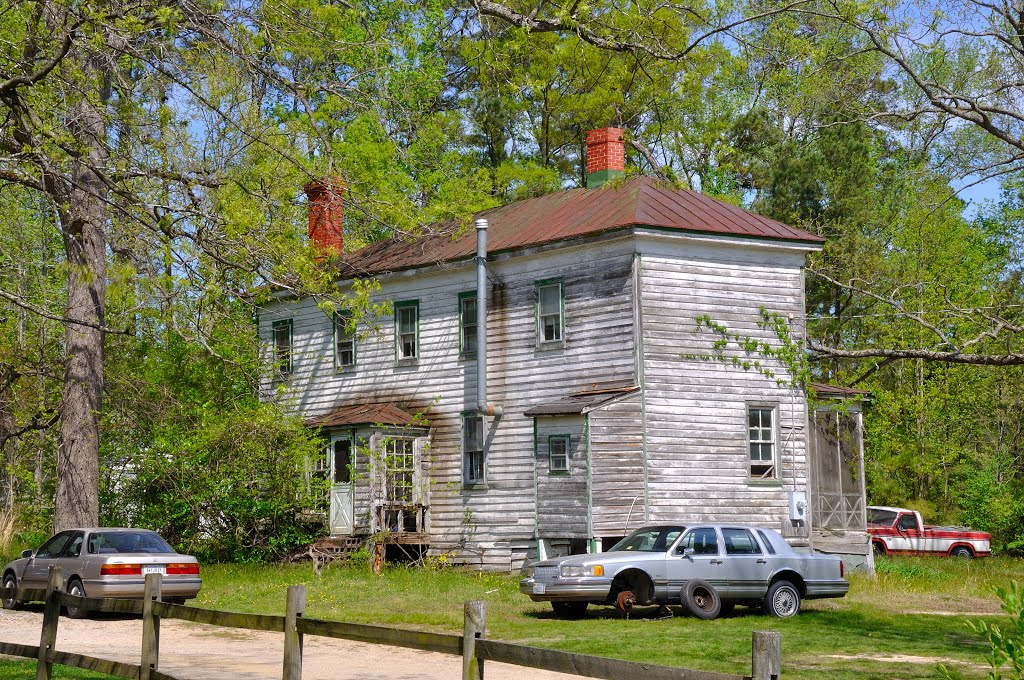 Home of M. B. Poole, Poolesville, Virginia. Poole's funeral home was across the street.



17th Century Celebrations: Guns Fired over the Grave
In his last will and testament, George Jordan of Surry County expressly forbade guns to be fired over his grave and directed that his executors permit no drunkenness to disgrace the occasion. In his last will and testament, he wished a good and decent funeral. This is but one of the interesting stories the genealogist learns upon examining the estate of colonials. He obtains knowledge of the history of the area, peculiar bequests, and stories to tell family members. However, it is not enough to simply read the will, one must also study every detail of the estate proceedings, from the inventories and annual returns to receipt vouchers. Source: Surry County Records, Vol. 1671-84, p. 295. List of Traced Virginia Families on this website
Smith's Fort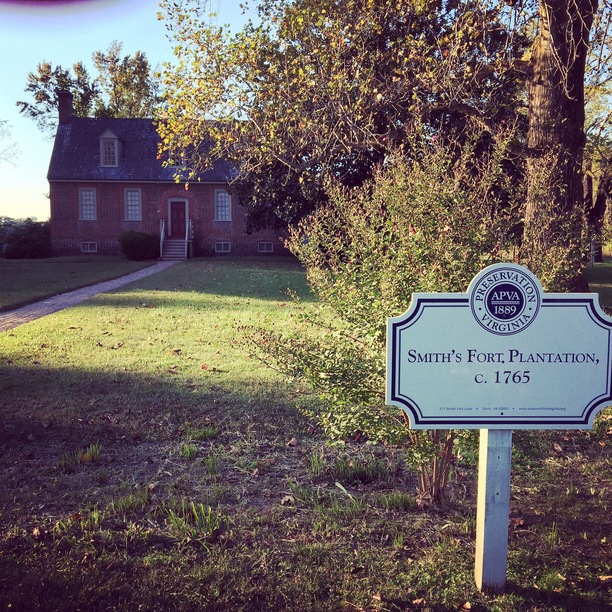 Capt. John Smith's fort in Surry County, Virginia; also called the Rolfe-Warren House. The fort no longer exists. This area was selected for the site of a town. As an inducement to build, settlers were granted in fee simple a half-acre lot. In 1652, Surry County was formed from a portion of James City County in the Royal Colony of Virginia south of the James River. In 1676, a local Jacobean brick house was occupied as a fort or castle during Bacon's famous Rebellion against the Royal Governor, Sir William Berkeley.
The Forgotten People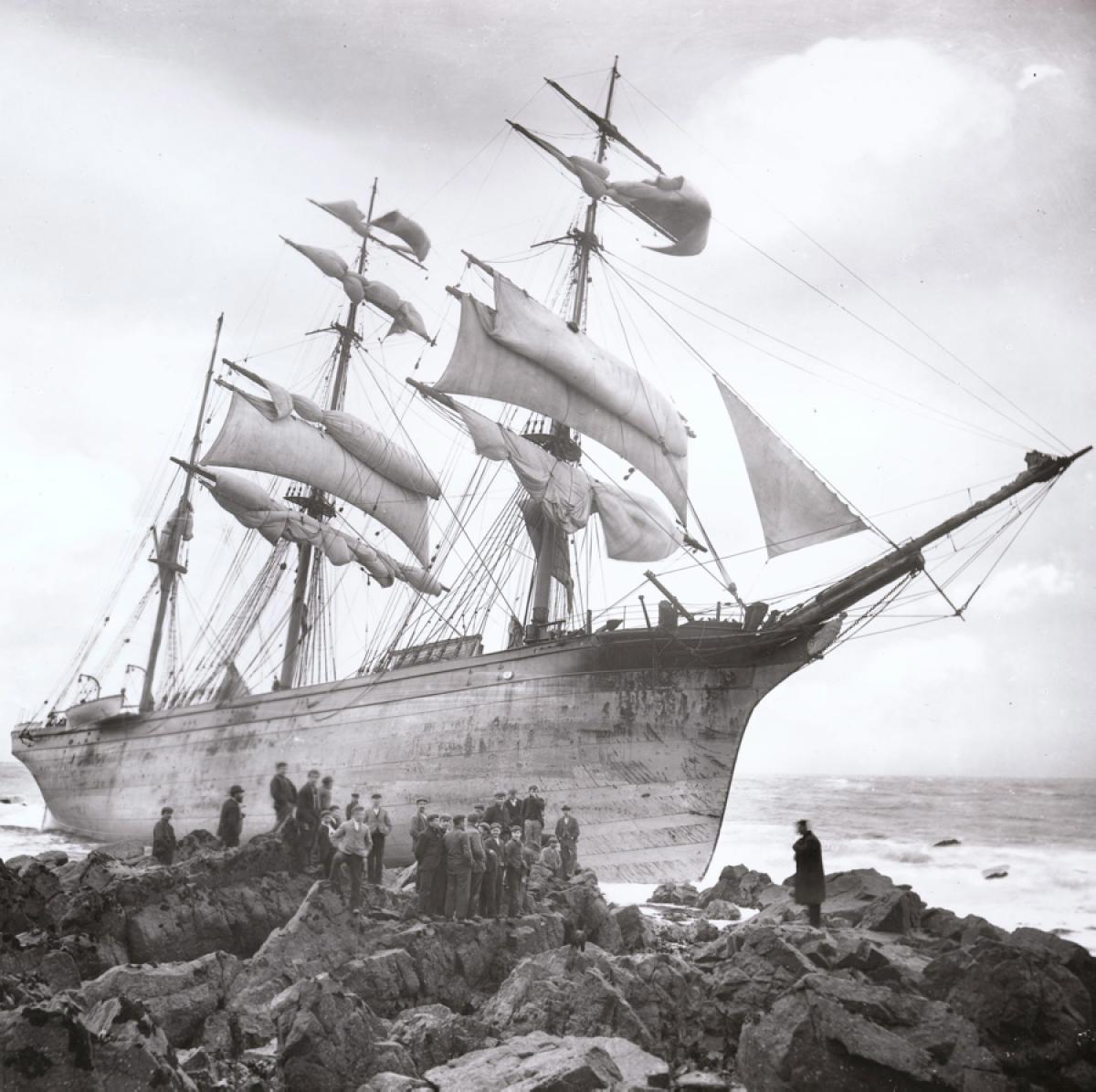 Obviously, everyone is not accounted for who crossed the Atlantic and came to the American shores of freedom. Shipwrecks were fairly common as vessels were met with storms and hurricanes and thrown off-course. Thus, those who were en route for America who never heard from by relatives abroad were forgotten. If we had the ship manifests of all of the vessels who crossed the seas, listing the names, ages, and occupations of those traveling, a plethora of information would be available to genealogists. One can get an idea of the situation by reading some of the old Wills in England which state that someone was traveling to the colonies, or elsewhere. The Jamestown settlement suffered from starvation and poverty. After more than half of the settlers were massacred by Indians in 1622, the colony was in desperate straits. From that time going forward and as royal governors were sent to rule, colonists struggled to keep laws that did not particularly apply to a wilderness setting. During the 18th and 19th centuries, there existed heavy traffic of trade throughout the West Indies, Great Britain, and America. In fact, during the early colonization period of the 17th century, the English passed laws against the colonists trading with Dutch merchant ships. This was because the dutch delivered more affordable necessities without the penalty of tariff. To circumvent paying the penalty which was collected on land, merchants would drop anchor a convenient distance away. The nagging tariff paid by Virginians was an obstacle to the prosperity of the early settlers. One example is that the cost of transporting nails and building materials from Britain was so high that the cost of constructing a home in Virginia far exceeded that of English homes. For this reason, when buildings were disassembled, all materials were saved. That is why the old wills and testaments contain inventories of vast amounts of stores.
---
Taylor Genealogy
---
---
Tucker families